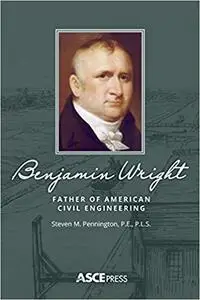 Benjamin Wright: Father of American Civil Engineering by Steven M. Pennington and P.E.
English | Oct 20, 2020 | ISBN: 0784415668 | 274 pages | PDF | 8 MB
The early nineteenth century was a time of great change as the United States transitioned from the colonial era to the industrial age. Benjamin Wright s engineering career spanned the better part of that time from 1790 to 1840.
In Benjamin Wright: Father of American Civil Engineering, Steven M. Pennington chronicles the life of Benjamin Wright and varied career from country surveyor to his early work on America s railroads. After surveying the Mohawk River for navigation improvements and supervising the engineering of the Erie Canal project, he then went on to contribute to such projects as the Chesapeake and Delaware Canal near Philadelphia, and the Chesapeake and Ohio Canal near Washington, DC. From the capital city, Wright advanced his engineering practice as America grew and viewed its manifest expansion to the West.
Throughout his life and work, his personal connections, politically, socially, and technically, were far reaching. Wright understood the mechanics and connectivity of how politics and economics demonstrated themselves. He worked with leaders across the business and engineering communities to make a lasting social, economic, and historical contribution.
Benjamin Wright understood the necessity to establish an organization of practicing engineers to stimulate technical, business, ethical, and professional attitudes. In 1839, he participated in organizational meetings of what would become the American Society of Civil Engineers which, in 1970, designated him the "Father of American Civil Engineering."
My nickname -
interes