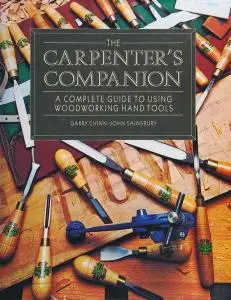 The Carpenter's Companion: A Complete Guide to Using Woodworking Hand Tools by Garry Chinn, John Sainsbury
English | 1995 | ISBN: 0785804765 | 193 pages | PDF | 101 MB
A bad workman always blames his tools. That saying may be true, but anyone will work better using the right tool for the right job, and this book will help every craftsman to achieve just this.
Carpentry is a skill which has been passed down through the centuries. Today, in an age of mass production, it is both satisfying and relaxing to produce handmade furniture and fittings.
THE CARPENTER'S COMPANION is an essential book for both the inexperienced and experienced woodworker. Through detailed photographs and line drawings, it shows the home woodworker how to choose and use the finest tools correctly and effectively so that the end result is both practical and aesthetically pleasing.
The subjects covered in the chapters are both fundamental and specialized: the history of tools; their maintenance; how to plan a workshop; which plane to buy; points to watch when buying a saw; using veneering, carving, turning and boring tools. There are step-by-step projects showing how to make a sawing jig, a workbench and a carving vice, and charts showing the different varieties of equipment, including jig saw blades, nails, screws and abrasive papers, in addition to a compehensive glossary.
THE CARPENTER'S COMPANION is lavishly illustrated with color and black and white photographs and clear, informative line drawings, covering everything the woodworker needs to know.