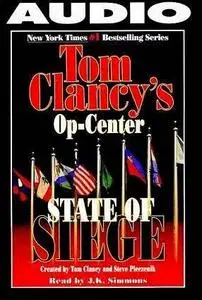 [Audiobook] Tom Clancy - Op Center: State of Siege
ISBN: 0786223189 | MP3 | 24 kbps | 36,2 Mb
The Op-Center series, created by Clancy and television producer Pieczenik, contains a large cast of characters that runs the U.S. government's elite crisis management team. This sixth and latest installment twists three seemingly unrelated plots into an engrossing story. A multinational terrorist group called the Peacekeepers, comprised of former U.N. soldiers, plans an attack on the U.N. during a private Saturday-night party in the Security Council chambers. Meanwhile, an angry Cambodian couple seeks revenge for a murder committed long ago. And Paul Hood, the center's recently retired head, is trying to piece everything together, but his troubled personal life only hinders his job. As the story lines converge, readers are taken deep inside the heart of America's defense, intelligence and crisis management networks.
DOWNLOAD from RAPIDSHARE
or mirror:
DOWNLOAD from DEPOSITFILES