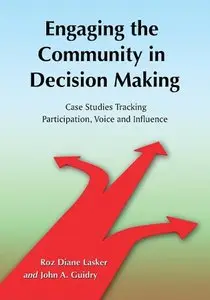 Engaging the Community in Decision Making: Case Studies Tracking Participation, Voice and Influence
Publisher: McFarland | ISBN: 078644312X | edition 2009 | PDF | 247 pages | 1.8 mb
In recent years, the rapidly growing field of community participation has promised to give people formerly excluded from decision making an influential voice about issues that affect their lives. Inclusive processes implemented in the United States and internationally have certainly given community members new opportunities to participate and be involved, but how effective are these processes in promoting the voice and influence of the people who have historically been excluded the most–the poorest, least educated, and most marginalized residents in communities? Of the various participants who have "a seat at the table," whose voices are influential, whose aren't, and why? This book summarizes how five community partnerships, working with a team of researchers, attempted to answer these critical questions. Investigating 10 cases–two from each community partnership–the study tracks the ideas of everyone involved and reveals how and why the ideas of marginalized and ordinary residents were far less likely to be influential than those of people with more clout, resources, or acknowledged expertise. Finally, the authors explain how and why these influence inequities can be overcome, providing readers with practical, evidence-based tools to help them do so. The book should be helpful to readers involved in any form of active community participation, from participatory research to civic engagement, deliberative democracy, and community initiatives.