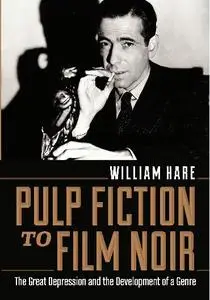 Pulp Fiction to Film Noir: The Great Depression and the Development of a Genre by William Hare
2012 | ISBN: 0786466820 | English | 222 pages | True PDF | 8 MB
During the Great Depression, pulp fiction writers created a new, distinctly American detective story, one that stressed the development of fascinating, often bizarre characters rather than the twists and turns of clever plots. This new crime fiction adapted brilliantly to the screen, birthing a cinematic genre that French cinema intellectuals following World War II christened "film noir." Set on dark streets late at night, in cheap hotels and bars, and populated by the dangerous people who frequented these locales, these films introduced a new antihero, a tough, brooding, rebellious loner, embodied by Humphrey Bogart as Sam Spade in The Maltese Falcon and Philip Marlowe in The Big Sleep. This volume provides a detailed exploration of film noir, tracing its evolution, the influence of such legendary writers as Dashiell Hammett and Raymond Chandler, and the films that propelled this dark genre to popularity in the mid-20th century.