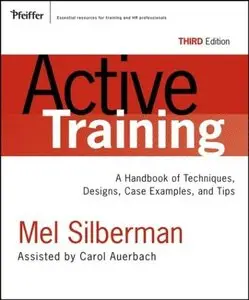 Active Training: A Handbook of Techniques, Designs, Case Examples, and Tips by Melvin L. Silberman and Carol Auerbach
English | 2006-04-14 | ISBN: 0787976237 | 380 pages | PDF | 1,7 MB
A new edition of a bestselling book offering over 200 designs and case examples on 35 subjects, including coaching, communication skills, team building, performance appraisals, customer service, problem solving, time management and leadership. With the guidance in this book you will be able to design and conduct experiential programmes in organisations in both the private and the public sector.
There is information on assessing training needs, developing active training objectives, preparing effective lectures and ensuring that training is applicable on-the-job. (Kirkus UK) –This text refers to the Hardcover edition.
Reviews:
"Since its initial publication, Active Training has become a classic book in the field of training and development. It remains a must-read for anyone who wants training to be effective and engaging."
–Sivasailam "Thiagi" Thiagarajan, author, Design Your Own Games and Activities; president, International Society for Performance Improvement
"Active Training is a one volume "encyclopedia" full of the soundest concepts and practical ideas for applied adult learning you can find. No professional involved in learning, development or workplace performance should be without it."
–Ed Betof Ed.D., vice president, Talent Management and chief learning officer, Becton Dickinson
"Active Training has been required reading for all our students since 1992. They refer their managers and staffs to it often to help change the way their organizations view and conduct training. Of all of the books required in the program, this is the one they cite as the most valuable!"
–Brenda S. Levya-Gardner, Ph.D. director, executive HRD graduate program, Xavier University, Cincinnati, Ohio
"The third edition of Active Training continues its rich tradition of weaving theory with best practice that works so well for university classrooms as well as business contexts. Especially welcome is the expanded content on e-learning! I am confident that our students will be thrilled with new edition of Active Training."
–John A. Sample, Ph.D., program coordinator, Adult Education and Human Resource Development, Florida State University