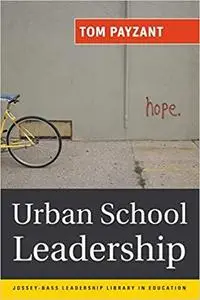 Urban School Leadership by Tom Payzant
English | ISBN: 0787986216 | 208 pages | EPUB | December 14, 2010 | 0.59 Mb
This important book, written by educational expert and urban school leader, Tom Payzant, offers a realistic understanding of what urban school leadership looks like from the inside. Payzant shares his first-hand knowledge of the unique managerial, instructional, and political tasks of this role. Effectively combining practical lessons and research, Urban School Leadership includes in-depth analysis of various leadership concerns. The book covers topics such as improving student achievement, working with unions, building community, and maintaining and developing resources. Most importantly, it offers stories of real school leaders whose successes and missteps reveal the inherent "messiness" of this difficult job.
Urban School Leadership is part of the Jossey-Bass Leadership Library in Education series.
"This important book provides compelling examples of how effective leaders can have hope, see progress, and achieve success for all children in the schools and districts they lead."―Richard Riley, former United States Secretary of Education
"Tom Payzant is one of the few people who could provide such a comprehensive, useful book for educational leaders at all levels. This very practical book is grounded in the important experiences and impressive judgment of one of our nation's most successful school superintendents"―Jon Schnur, co-founder and CEO, New Leaders for New Schools
"Tom Payzant is one of the finest urban educators of our generation. Urban School Leadership is compelling, crisp, and wise―providing a clear path for those dedicated to improving the trajectory of children's lives."―Timothy F.C. Knowles, executive director, Center for Urban School Improvement, University of Chicago
"Urban School Leadership is a must read for anyone interested in the landscape of urban public education in America."―Beverly Hall, superintendent, Atlanta Public Schools