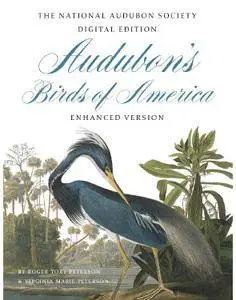 Audubon's Birds of America: The Audubon Society Baby Elephant Folio by Roger Tory Peterson, Virginia Marie Peterson
English | 2013 | ISBN: 0789211351 | 694 pages | EPUB | 262 MB
A magnificent new printing of this classic edition of John James Audubon's masterwork
In this latest printing of the Baby Elephant Folio edition of Audubon's Birds of America, the thumbnail images accompanying the descriptive captions are printed in full color for the convenience of the reader. This printing also features an attractive new binding cloth, in a sumptuous teal color.
The Baby Elephant Folio presents all 435 of Audubon's brilliant hand-colored engravings in exquisite reproductions derived from the original plates of the National Audubon Society's archival copy of the rare Double Elephant Folio. Although many attempts have been made to re-create the splendid illustrations in Audubon's masterpiece, nothing has ever equaled the level of fidelity achieved in this luxurious edition.
Organized and annotated by Roger Tory Peterson and Virginia Marie Peterson, and issued with the full endorsement and cooperation of the Audubon Society, this volume is as informative as it is beautiful. Its fascinating introduction places Audubon in the context of the history of American ornithological art and also reproduces a wide sampling of the work of his notable predecessors and disciples, including Roger Tory Peterson's own rightfully famous paintings. A new systematic arrangement of the prints, following the modern classification of species, and descriptive captions about each bird allow us to appreciate Audubon's achievement in the light of modern ornithology.