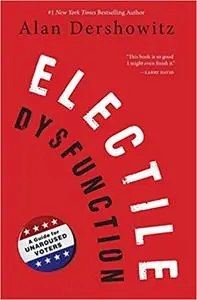 Alan Dershowitz, "Electile Dysfunction: A Guide for Unaroused Voters"
English | 2016 | ISBN: 079535021X | 130 pages | EPUB | 0.206 MB
If you're frustrated with the choices for president this year, you're not alone. 81 percent of voters say they'd "feel afraid" if either Trump or Clinton takes office―but what recourse do we have? The American electorate is plagued by a widespread feeling of impotence.
But this may be the most important election in generations: governments and radicals around the world are moving toward extremes of hard left and hard right, and the same frustrations are fissuring American civil society. Never has a search for stability been more necessary. It's imperative that voters understand the stakes, how we got here, and how to move forward.
In this book, Alan Dershowitz takes the techniques he's used in five decades of teaching to sort out how each candidate relates to basic domestic and foreign policy values. You're left to form your own conclusions, based on your own values―this is a choice you can't afford to let someone else make for you.