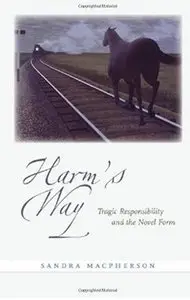 Sandra Macpherson, "Harm's Way: Tragic Responsibility and the Novel Form"
Publisher: The Johns Hopkins University Press | ISBN: 0801893844 | edition 2009 | PDF | 254 pages | 2,7 mb
Conventional studies of the 18th-century novel link the form's evolution to the emergence of a modern liberal subject whose actions and attachments are imagined to be voluntary and intentional. Sandra Macpherson challenges this account of modernity, arguing that accident and injury are central to the way the early realist novel conceives of personhood and belonging.
Macpherson's unique approach connects the rise of the novel to contemporary developments in liability law—in particular, to legal principles of strict liability that hold persons accountable for harms inflicted upon others in the absence of intention, consent, direct action, or foreknowledge. In fresh readings of Defoe, Richardson, and Fielding, she shows that these laws share with the novel the view that the state of a person's mind is irrelevant to the question of her responsibility for her actions. Macpherson urges readers to rethink the ancient consensus that the novel differs from tragedy in its elevation of character over plot. She concludes that the realist novel is ultimately a tragic form, committed to holding persons accountable for accidents of fate.
Download FREE

filesonic.com





wupload.com





turbobit.net





depositfiles.com





uploading.com



To thank me use my links, please!





My AH blog!



!!! No mirrors please !!!