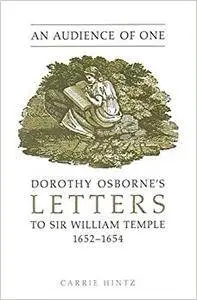 Carrie Hintz, "An Audience of One: Dorothy Osborne's Letters to Sir William Temple, 1652-1654"
English | 2005 | ISBN: 0802088333 | PDF | pages: 214 | 10.4 mb
When first published in 1888, the letters of Dorothy Osborne to William Temple - written between 1652 and 1654 - created a kind of cult phenomenon in the Victorian period. Osborne and Temple, both in their early twenties, shared a romance that was opposed by their families, and Osborne herself was almost constantly under surveillance. Osborne's letters provide a rare glimpse into an early modern woman's life at a pivotal point, as she tried to find a way to marry for love as well as fulfil her obligations to her family.
Combining historical and biographical research with feminist theory, Carrie Hintz considers Osborne's vision of letter writing, her literary achievement, and her literary influences. Osborne has long been overlooked as a writer, making a comprehensive and thorough analysis long overdue. While the nineteenth-century reception of the letters is testament to the enduring public fascination with restrained love narratives, Osborne's eloquent and outspoken articulation of her expectations and desires also makes her letters compelling in our own time.