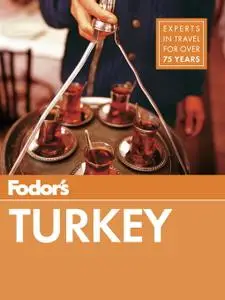 Fodor's Turkey (Full-color Travel Guide), 9th Edition by Fodor's
English | ISBN: 0804141916 | 2014 | EPUB | 512 pages | 23 MB
Spanning two continents and centuries of history, Turkey is where East meets West and where the modern and traditional are constantly blurred, creating a dynamic and fascinating country that's unlike anywhere else in the world. With Fodor's Turkey, visitors can plan and navigate their visit, from the urban streets of Istanbul to the scenic Cappadocia countryside, and everywhere in-between.
NEW THIS EDITION: Istanbul's hot hotel and restaurant scene gets ample attention, with best bets for different price categories and experiences. A new Great Itinerary sums up Turkey's best sights for the perfect week-long visit.
ILLUSTRATED FEATURES: Magazine-style color features explore quintessential Turkey, including archaeological and historical sites such as Topkapi, Ephesus, and the churches of Cappadocia. Also highlighted are cultural experiences such as shopping for carpets and spices, sampling mezes and street food, and seeing the whirling dervishes.
ESSENTIAL TRIP-PLANNING TOOLS: Setting up a great trip is easy using Top Attractions, Top Experiences, and Great Itineraries. Convenient overviews show each region and its highlights, and chapter planning sections have savvy advice for making the most of your time and for getting around Istanbul and the rest of the country.
DISCERNING RECOMMENDATIONS: Fodor's Turkey offers savvy advice and recommendations from local writers to help travelers make the most of their time. Fodor's Choice designates our best picks, from hotels to nightlife. "Word of Mouth" quotes from fellow travelers provide valuable insights.
ABOUT FODOR'S AUTHORS: Each Fodor's Travel Guide is researched and written by local experts.