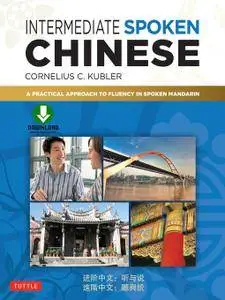 Intermediate Spoken Chinese: A Practical Approach to Fluency in Spoken Mandarin (Audiobook + book) (DVD and MP3 Audio CD Included) by Cornelius C. Kubler
English, Chinese | 2013 | ISBN: 0804840180 | MP3 256 kbps + PDF 384 pages | 3,6 GB
Welcome to the world's most effective method of learning Mandarin!
This widely-acclaimed series continues to impress and inspire learners whether they're studying Chinese on their own, or in a classroom setting. Intermediate Spoken Chinese and the corresponding Practice Essentials allow you to experience real-life situations in different Mandarin-speaking locales. Each of the common situations explored here—from shopping at a market to playing unexpected phone tag—is one you're most likely to encounter as you interact with Mandarin Chinese speakers. An accompanying MP3 audio–CD and software DVD reinforce listening comprehension and correct pronunciation.
The breakthrough foundation of these books is that you don't need to know the characters in order to speak and understand Chinese. This series provides separate "tracks" to help you master the skills of speaking and writing Chinese at your own pace. Some learners wish to learn reading and writing as well as speaking, while others focus on developing their knowledge of spoken Chinese first, and then learn the characters. Both approaches are perfectly valid ways to learn Chinese, and the one you adopt will depend on your personal goals and the amount of time you have for weekly study. This series allows you total flexibility in this regard.
Additional key features of Intermediate Spoken Chinese:
• Clear and detailed explanations of natural, colloquial Chinese pronunciation, grammar and usage.
• Recommended strategies to help you learn to speak Chinese more efficiently.
• Notes on Chinese culture and society allow you to understand situational etiquette.
• Discussions of challenges faced by English speakers who are learning Chinese and how to overcome them.
• A digital Instructors Guide is available gratis from the publisher.
• A digital Chinese Character Transcription (simplified and traditional characters)
The MP3 audio CD and software DVD feature:
• 56 videos with dozens of native speakers filmed on location in mainland China, Hong Kong, Macao, Taiwan, Singapore, and Malaysia.
• 6 hours of native–speaker audio, including all of the book's conversations.
• Build up sections, new words, and pronunciation exercises.
Available separately, Intermediate Spoken Chinese Practice Essentials is the companion workbook for Intermediate Spoken Chinese. This practical guide includes a broad range of drills and exercises designed to dramatically enhance your proficiency in speaking and comprehending. While designed for use with the companion textbook, it can be used together with any Chinese textbook or teaching program to hone your Chinese language skills.