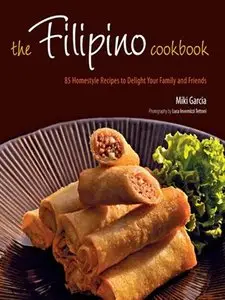 The Filipino Cookbook: 85 Homestyle Recipes to Delight Your Family and Friends by Luca Invernizzi Tettoni, Miki Garcia
English | ISBN: 0804840881, 0804847673 | 2010 | EPUB | 112 pages | 8 MB
Each region of the Philippines has its own distinct food culture, just like the regional differences so common in the United States. The Filipino Cookbook is a collection of 85 tried and tested recipes that relate the secrets and soul of the cultural mosaic that is the Philippines.
This delightful collection showcases the full range of authentic Filipino dishes from the famous vegetable dishes of the Tagalog peninsula to the seafood and noodles of the Visayan Islands and the spicy and colorful curries of Mindanao. Learn to make a perfect Pinakbet (Sauteed Vegetables with Shrimp Paste) or a delicious Halo-Halo (Mixed Fruits Dessert). Regale your friends with a wonderfully easy Paella (Rice and Seafood Medley) and Morcon (Stuffed Beef Roll) or an amazing bowl of Pininyahang Manok (Chicken with Pineapple). Utilizing readily available ingredients, The Filipino Cookbook allows the home cook to create authentic Filipino food at home, whether you are one of the 4 million Filipino-Americans living in the United States or simply interested in trying something new.
My nickname -
interes