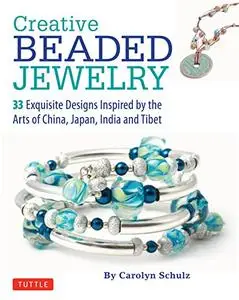 Creative Beaded Jewelry: 33 Exquisite Designs Inspired by the Arts of China, Japan, India and Tibet by Carolyn Schulz
2013 | ISBN: 0804843015 | English | 80 pages | EPUB | 7 MB
Creative Beaded Jewelry celebrates the art of the East with stunning beaded jewelry in many shapes, sizes and materials. Drawing from her years in the Hawaiian islands, longtime jewelry veteran Carolyn Schulz shares great ideas sparked by all things Asian, such as the springy patterns of kimono fabrics, rich red and gleaming black Chinese lacquerware, and antique Asian coins with a touch of patina.
In this book, 33 projects using basic stringing materials (chain, beading wire, memory wire, stretch cord and cotton cord) show how mastering a few simple techniques and combining them with the right beads can result in gorgeous pieces range from strong to subtle. Colorful bracelets embellished with Chinese floral and butterfly motifs, a gold-and-pearl lariat inspired by the fringe of an Indian carpet, and a stunning Shamballa bracelet are just a few of the pieces you'll learn to make.
Detailed instructions and diagrams are easy enough for novices to follow, and beaders at all levels will be inspired by so many easy and inexpensively made pieces, most of which utilize materials that can be found in any craft store. Stunning color photos help your own ideas flow, and prove how simple techniques and materials can yield beautiful results. Put the world on a string with Creative Beaded Jewelry!
Projects include:
Exquisite Pearls (stretch cord bracelet)
Jade & Onyx Watch (stretch cord bracelet)
Flowers and Butterflies (memory wire bracelet)
Aqua Lampwork With Silver Tubes (memory wire bracelet)
Turquoise & Coral Floating Necklace (beading wire-based necklace)
Patina Donut Necklace (cotton cord-based necklace)
Amethyst Shamballa Bracelet (cord-based bracelet)
Abalone Shell Ensemble (linked bracelet, necklace and earrings)
Elephant & Jade Necklace and Earrings (chain and jump ring-based bracelet and earrings)