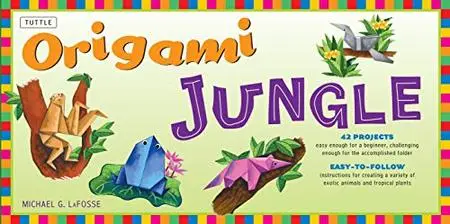 Michael G. LaFosse, "Origami Jungle Kit: Create Exciting Paper Models of Exotic Animals and Tropical Plants: Kit with 2 Origami Books, 42 Projects and 98 Origami Papers"
English | 2016 | ISBN: 0804845522 | 32 pages | EPUB | 7.53 MB
Make colorful and exciting origami animals and their jungle habitats with this easy origami kit.
Anteaters, Chameleons, Lemurs and Lizards are just a few of the fierce and beautiful origami jungle animals you can create with this paper craft origami kit. Origami Jungle Kit includes everything needed to get started in folding traditional designs and original creations to make elegant paper arrangements of jungle animals, vines and trees for gifts or decorations.
All of the folds are simple enough to be origami-for-kids projects and are a great way to learn origami. The origami paper in the kit already has printed patterns so no paint or glue is required, just unpack and start folding right away!
This origami kit contains:
2 full-colored, 32-page booklets
Clear step-by-step instructions
Easy-to-follow diagrams
42 simple origami jungle projects
96 sheets of durable, authentic origami folding paper
A variety of different colors and patterns
2 sheets of gold foil
Origami Jungle Kit provides you this stunning collection of origami projects that will have you creating your tropical nature preserve in no time!
Origami projects include:
Tree Sloth
Crocodile
Iguana
Toucan
Piranha
And much more…