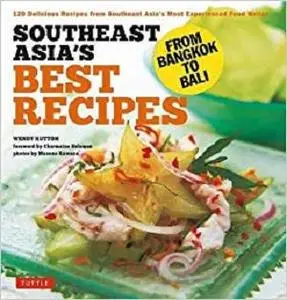 Southeast Asia's Best Recipes: From Bangkok to Bali [Southeast Asian Cookbook, 121 Recipes] by Wendy Hutton
English | October 16, 2018 | ISBN: 0804851360 | 160 pages | MOBI | 10 MB
"A mouth-watering culinary tour of southeast Asia's most scrumptious food." —Travelife Magazine
Cook delicious and healthy dishes from Thailand, Vietnam, Malaysia, Indonesia, Cambodia, and all across the region with this easy-to-follow Southeast Asian cookbook. Few Westerners know the sensational tastes and techniques of Southeast Asian cuisine as well as Wendy Hutton. In
Southeast Asia's Best Recipes
, Hutton takes readers on a culinary tour of the region's most famous and best-known dishes. Hutton has spent more than four decades traveling and eating her way through Asia, collecting the best recipes—from simple country homes to elegant restaurant kitchens.
Featuring a foreword by acclaimed food writer Charmaine Solomon and tantalizing photographs by award-winning food and lifestyle photographer Masano Kawana, this essential Asian cookbook shows readers how to prepare dozens of mouthwatering dishes.
Authentic Southeast Asian recipes include:
Extraordinary Beef Satay
Thai Rice Soup with Pork
Vietnamese Mixed Coconut Rice
Lemongrass Beef with Peanuts
Green Curry Chicken
Famous Singapore Chili Crab
Spicy Sambal Eggplant
Southeast Asian cuisine is more popular than ever, and with Wendy Hutton as your guide, you can learn how to whip up a festival of flavors in your very own kitchen!