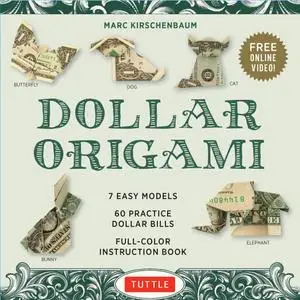 Dollar Origami Kit: 60 Practice "Dollar Bills," A Full-Color Instruction Book and Online Video Lessons by Marc Kirschenbaum
English | ISBN: 0804851921 | 56 pages | EPUB | August 10, 2021 | 4.56 Mb
Dollar Origami Kit features instructions for folding 7 fun and easy money origami projects. These cute paper sculptures make perfect gifts and tips—in fact, they are almost too good to give away!
This kit includes step-by-step instructions for folding a dollar bill into:
Butterfly—This model looks as if it could fly away (and not just because it's made of money!)
Mouse—Don't let this lifelike project startle its recipient
Elephant—A wonderful option when loaning cash: elephants never forget!
Giraffe—Folding this delightful figure isn't a tall order, even for beginners
Bunny—With just 15 steps, your folding speed will rival this model's namesake
Dog—This sweet project is difficult to resist, even with paper puppy dog eyes
Cat—This feline figure makes a good companion, ready to prowl any desk or shelf
With a full-color instruction book, free online video tutorials and 60 practice "dollar bills," this kit has everything you need to get started.