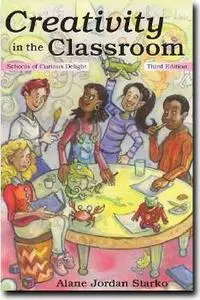 Creativity in the Classroom: Schools of Curious Delight by Alane Jordan Starko
Publisher: Lawrence Erlbaum Associates; 3rd edition (July 22, 2004) | ISBN: 080584791X | PDF | 29 Mb | 512 pages
From Amazon:
am always fascinated by creativity. Whenever I come across a creativity book, irrespective of whether it is intended for the business or academic world, I will always scan it first and if it appears "intriguing" judging from the front/back covers, table of contents and index page, I will often peruse - and reflect on - it. I will often adapt the ideas to my consulting work. In this case, this book did not disappoint me.
In a nut shell, this is a book about practical strategies for teaching and learning creative thinking skills. Although it has been written primarily for teachers and students, I find that many of the information on theory, strategies and assessment covered by the book are applicable and useful for anyone who is interested in exploring creativity, even in non-academic areas.
The main bulk of the book pertains to approaches to teaching the basic curriculum - mathematics, science, social studies, language - that encourage creative problem solving, and information on how research on motivation and creativity applies to decisions about classroom management, organisation and assessment.
The book is divided into two parts: "Understanding Creative People & Processes" and "Creativity & Classroom Life.". The first part gives an excellent grounding in creativity fundamentals. The second part gives practical suggestions for creativity design, development & assessment in a classroom setting. For teachers, this part, especially the assessment tools, is a real gem.
Very fortunately, the author's fluid writing style, coupled with her interesting case studies and numerous applications, makes the book easy-to-follow.
The author has very masterfully organised practical activities, such as "Thinking about the Classroom" and "Journeying and Journalling" in every chapter. For readers, there are a lot of points to ponder, several questions to ask and many things to do. This is the part I enjoyed "playing" with them the most.
At the end of each chapter, and also in the bibliography, the author has listed many useful references for further exploration. For research purposes, this is a gold mine.
For parents, who are looking for simple ideas and practical strategies to develop creative activities for their children, I dare say this book is definitely a very helpful guide.
As a matter of fact, if you are just looking for creative opportunities in your own life, this book (particularly chapter 6) can be a valuable source of curious delight.
Download from Rapidshare
or
Download from Depositfiles