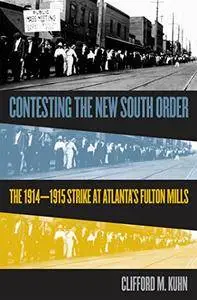 Contesting the New South Order: The 1914-1915 Strike at Atlanta's Fulton Mills by Clifford M. Kuhn
English | 2001 | ISBN: 0807826448 | 320 Pages | PDF | 3.40 MB
In May 1914, workers walked off their jobs at Atlanta's Fulton Bag and Cotton Mills, launching a lengthy strike that was at the heart of the American Federation of Labor's first major attempt to organize southern workers in over a decade. In its celebrity, the Fulton Mills strike was the regional contemporary of the well-known industrial conflicts in Lawrence, Massachusetts, and Ludlow, Colorado. Although ultimately unsuccessful, the strike was an important episode in the development of the New South, and as Clifford Kuhn demonstrates, its story sheds light on the industrialization, urbanization, and modernization of the region.
Drawing on an extraordinary collection of sources--including reports from labor spies and company informants, photographs, federal investigations, oral histories, and newly uncovered records from the old mill's vaults--Kuhn vividly depicts the strike and the community in which it occurred. He also chronicles the struggle for public opinion that ensued between management, workers, union leaders, and other interested parties. Finally, Kuhn reflects on the legacy of the strike in southern history, exploring its complex ties to the evolving New South.