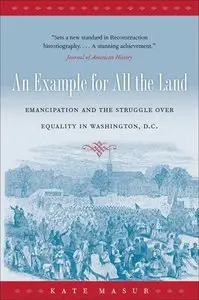 An Example for All the Land: Emancipation and the Struggle over Equality in Washington, D.C. by Kate Masur
English | 2010 | ISBN: 0807834149 , 0807872660 | 376 pages | PDF | 5,5 MB
An Example for All the Land reveals Washington, D.C. as a laboratory for social policy in the era of emancipation and the Civil War. In this panoramic study, Kate Masur provides a nuanced account of African Americans' grassroots activism, municipal politics, and the U.S. Congress.
She tells the provocative story of how black men's right to vote transformed local affairs, and how, in short order, city reformers made that right virtually meaningless. Bringing the question of equality to the forefront of Reconstruction scholarship, this widely praised study explores how concerns about public and private space, civilization, and dependency informed the period's debate over rights and citizenship.