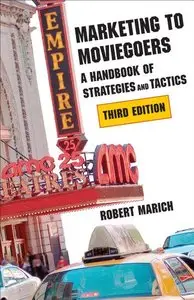 Marketing to Moviegoers: A Handbook of Strategies and Tactics, Third Edition by Mr. Robert Marich
English | 2013 | ISBN: 0809331969 | 432 pages | PDF | 3 MB
While Hollywood executives spend millions of dollars making movies, even more money is poured into selling those films to the public. In the third edition of his comprehensive guidebook, Marketing to Moviegoers: A Handbook of Strategies and Tactics, veteran film and TV journalist Robert Marich plumbs the depths of the methods used by studios to market their films to consumers. Updates to the third edition include a chapter on marketing movies using digital media; an insightful discussion of the use of music in film trailers; new and expanded materials on marketing targeted toward affinity groups and awards; fresh analysis of booking contracts between theaters and distributors; a brief history of indie film marketing; and explorations of the overlooked potential of the drive-in theater and the revival of third-party-financed movie campaigns.
While many books have been written on the business-to-business aspect of film promotion, Marich's volume is one of the few that focuses on the techniques used to sell motion pictures to those in a position to truly make or break a film—the public. A highly navigable handbook that breaks down a complicated process into manageable strategies in an easy-to-read style, Marketing to Moviegoers is a must for all professionals and students in today's rapidly evolving film industry.
My nickname -
interes