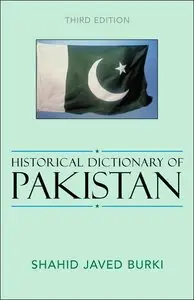 Shahid Javed Burki "Historical Dictionary of Pakistan"
The Scarecrow Press, Inc. | 2006-10-28 | ISBN: 0810856018 | 648 pages | PDF | 2,5 MB
At what point should one begin Pakistan's history? Should one start with August 14, 1947 when Lord Louis Mountbatten administered the oath of office to Muhammad Ali Jinnah, Pakistan's first Governor General? If we start with August 14 as Pakistan's birthday, it is impossible to tell Pakistan's full story. To really understand the circumstances that resulted in the birth of Pakistan, one has to go much farther back in history. Beyond Jinnah's call for separate states in 1940, and even beyond the elections of 1937, all the way back to the eighth century when Islam first arrived on the Indian sub-continent. This expanded and updated edition provides concise, accurate, dictionary-style entries on the religious, social, political, economic, and cultural events and leaders that contributed to the founding of the Muslim state. Dr. Burki provides a helpful introduction to aid with historical context. The handy chronology and comprehensive bibliography further augment the usefulness of this volume, making it a helpful guide for the new student of Pakistan and quick ready-reference for the experienced scholar. Praise for the first edition: "…a very useful bibliography… [The introduction]…is a finely crafted essay…provides the user with an insider's view of the emergence of a new nation…a very authoritative and readable source. Recommended for all levels of college and university reference collections."
Download FREE: