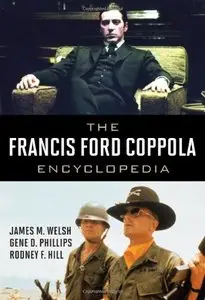 The Francis Ford Coppola Encyclopedia by James M. Welsh, Gene D. Phillips and Rodney F. Hill
English | 2010 | ISBN-10: 0810876507 | PDF | 320 pages | 10 MB
Francis Ford Coppola's career has spanned five decades, from low budget films he produced in the early 1960s to more personal films of recent years. Because of the tremendous popular success of The Godfather and the tremendous critical success of its sequel, Coppola is considered to be one of the best directors of all time.
The entries in this encyclopedia focus on all aspects of Coppola's work-from his early days with producer Roger Corman to his films as the director of the 1970s. This extensive reference contains material on all of the films Coppola has played a role in, from screenwriter to producer to director, including such classics as Patton, The Godfather, The Conversation, The Godfather Part II, and Apocalypse Now. Each entry is followed by a bibliography of published sources, both in print and online, making The Francis Ford Coppola Encyclopedia the most comprehensive reference on this director's body of work.