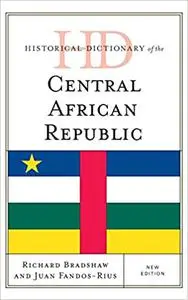 Richard Bradshaw, "Historical Dictionary of the Central African Republic "
English | ISBN: 0810879913 | 2016 | 816 pages | PDF | 4 MB
The Central African Republic (CAR) came into existence on 1 December 1958 as a semi-autonomous member state of the Communauté (French Community), meaning that France still controlled its currency, defense, foreign affairs and national security. The history of the CAR can be interpreted in radically different ways. One the one hand the people of Central Africa have suffered enormously at the hands of slave traders, concessionary companies, French colonialists and African rulers, and their country remains largely 'undeveloped.' On the other most Central Africans have retained free use of land on which they grow crops and from which they extract numerous valuable resources. Their way of life is in the long run perhaps more sustainable than those of the 'experts' who come to assist them. The theme of essential continuity in the history of the CAR is as important, if not more important in the long run, than the themes of violent change, exploitation, and enduring dependence. Deep roots of continuity provide a surprising stability in the face of dramatic and often very painful change on the surface.
The Historical Dictionary of the Central African Republic contains a chronology, an introduction, appendixes, and an extensive bibliography. The dictionary section has over 1200 cross-referenced entries on important personalities, politics, economy, foreign relations, religion, and culture. This book is an excellent access point for students, researchers, and anyone wanting to know more about the Central African Republic.
Read more