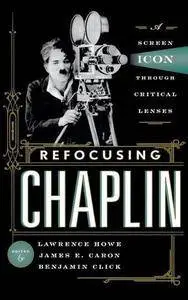 Refocusing Chaplin: A Screen Icon through Critical Lenses by Lawrence Howe, James E. Caron, Benjamin Click
2013 | ISBN: 0810892251 | English | 250 pages | PDF | 4 MB
Widely recognized in his character of the Tramp, Charlie Chaplin transcended the role of actor to become screenwriter, director, composer, producer, and finally studio head. The subject of numerous biographical studies, Chaplin has been examined as both myth and man, but these treatments fail to adequately address the often-overlooked complexity of his filmmaking.
Refocusing Chaplin: A Screen Icon through Critical Lenses features essays that examine the actor and director through various theoretical perspectives—including Marxism, feminism, gender studies, deconstruction, psychoanalytic criticism, new historicism, performance studies, and cultural criticism. Complementing this range of intellectual inquiry is the wide reach of films discussed, from The Circus (1928), The Gold Rush (1925), and City Lights (1931) to Modern Times (1936), The Great Dictator (1940), Monsieur Verdoux (1947), and Limelight (1952). Shorter films, such as "The Pawnshop" (1916), "The Rink" (1916), and "A Dog's Life" (1918) are also examined.
These essays analyze the tensions between the carefully constructed worlds of Chaplin's films and their cultural contexts. The varied approaches and range of materials in this volume not only comprehensively assess the screen icon but also foster a conversation that exemplifies the best of intellectual exchange. Refocusing Chaplin provides a unique view into the work of one of cinema's most important and influential artists.