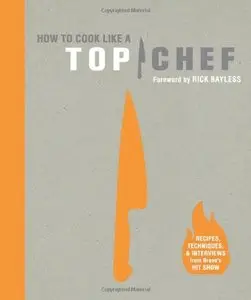 How to Cook Like a Top Chef by The Creators of Top Chef and Rick Bayless
English | 2010 | ISBN: 0811874869 | ISBN-13: 9780811874861 | 224 pages | PDF | 33,5 MB
The number one food show on cable TV presents the ultimate guide to becoming a Top Chef. This cookbook and culinary primer in one features recipes from all six seasons of the show and season one of Top Chef: Masters, along with insider techniques from everyone's favorite contestants and judges.
Covering everything from knife skills to sauces and sous-vide, How to Cook Like a Top Chef teaches aspiring chefs what it takes to be a star in the kitchen. Packed with exclusive contentincluding a foreword by Top Chef: Masters winner Rick Bayless, original recipes from contestants, behind-the-scenes interviews, juicy trivia, and tons of tips and tricksthis volume is as indispensable on the cook's countertop as it is essential reading for Top Chef fans.