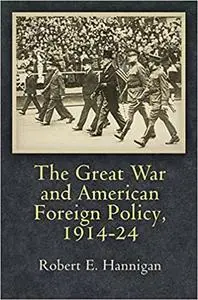 Robert E. Hannigan, "The Great War and American Foreign Policy, 1914-24 "
English | ISBN: 0812248597 | 2016 | 368 pages | PDF | 2 MB
World War I constituted a milestone in the development of the United States as a world power. As the European powers exhausted themselves during the conflict, the U.S. government deployed its growing economic leverage, its military might, and its diplomacy to shape the outcome of the war and to influence the future of international relations.
In The Great War and American Foreign Policy, 1914-1924, Robert E. Hannigan challenges the conventional belief that the United States entered World War I only because its hand was forced, and he disputes the claim that Washington was subsequently driven by a desire to make the world "safe for democracy." Democratic President Woodrow Wilson's rhetoric emphasized peace, self-determination, and international cooperation. But his foreign policy, Hannigan claims, is better understood if analyzed against the backdrop of American policy—not only toward Europe, but also toward East Asia and the rest of the western hemisphere—as it had been developing since the turn of the twentieth century. On the broadest level, Wilson sought to shore up and stabilize an international order promoted and presided over by London since the early 1800s, this in the conviction that under such conditions the United States would inevitably ascend to a global position comparable to, if not eclipsing, that of Great Britain. Hannigan argues, moreover, that these fundamental objectives continued to guide Wilson's Republican successors in their efforts to stabilize the postwar world.
The book reexamines the years when the United States was ostensibly neutral (1914-17), the subsequent period of American military involvement (1917-18), the Paris Peace Conference of 1919, the ensuing battle for ratification of the Treaty of Versailles (in 1919-20), and the activities of Wilson's successors—culminating with the Dawes Plan of 1924.