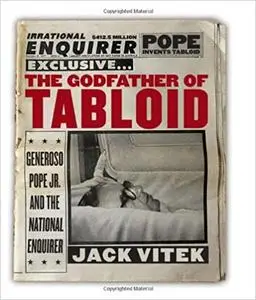 Jack Vitek, "The Godfather of Tabloid: Generoso Pope Jr. and the National Enquirer"
English | 2008 | ISBN: 0813125030 | 296 pages | EPUB | 0.8 MB
They're hard to miss at grocery stores and newsstands in America―the colorful, heavily illustrated tabloid newspapers with headlines promising shocking, unlikely, and sometimes impossible stories within. Although the papers are now ubiquitous, the supermarket tabloid's origin can be traced to one man: Generoso Pope Jr., an eccentric, domineering chain-smoker who died of a heart attack at age sixty-one. In The Godfather of Tabloid, Jack Vitek explores the life and remarkable career of Pope and the founding of the most famous tabloid of all― the National Enquirer. Upon graduating from MIT, Pope worked briefly for the CIA until he purchased the New York Enquirer with dubious financial help from mob boss Frank Costello. Working tirelessly and cultivating a mix of American journalists (some of whom, surprisingly, were Pulitzer prize winners) and buccaneering Brits from Fleet Street who would do anything to get a story, Pope changed the name, format, and content of the modest weekly newspaper until it resembled nothing America had ever seen before. At its height, the National Enquirer boasted a circulation of more than five million, equivalent to the numbers of the Hearst newspaper empire. Pope measured the success of his paper by the mail it received from readers, and eventually the volume of reader feedback was such that the post office assigned the Enquirer offices their own zip code. Pope was skeptical about including too much celebrity coverage in the tabloid because he thought it wouldn't hold people's interest, and he shied away from political stories or stances. He wanted the paper to reflect the middlebrow tastes of America and connect with the widest possible readership. Pope was a man of contradictions: he would fire someone for merely disagreeing with him in a meeting (once firing an one editor in the middle of his birthday party), and yet he spent upwards of a million dollars a year to bring the world's tallest Christmas tree to the Enquirer offices in Lantana, Florida, for the enjoyment of the local citizens. Driven, tyrannical, and ruthless in his pursuit of creating an empire, Pope changed the look and content of supermarket tabloid media, and the industry still bears his stamp. Grounded in interviews with many of Pope's supporters, detractors, and associates, The Godfather of Tabloid is the first comprehensive biography of the man who created a genre and changed the world of publishing forever.