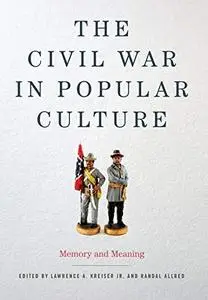 The Civil War in Popular Culture: Memory and Meaning by Lawrence A. Kreiser Jr., Randal W. Allred
2014 | ISBN: 0813143071 | English | 248 pages | EPUB | 1.4 MB
Dividing the nation for four years, the American Civil War resulted in 750,000 casualties and forever changed the country's destiny. The conflict continues to resonate in our collective memory, and U.S. economic, cultural, and social structures still suffer the aftershocks of the nation's largest and most devastating war. Nearly 150 years later, portrayals of the war in books, songs, cinema, and other cultural media continue to draw widespread attention and controversy.
In The Civil War in Popular Culture: Memory and Meaning, editors Lawrence A. Kreiser Jr. and Randal Allred analyze American depictions of the war across a variety of mediums, from books and film, to monuments and battlefield reunions, to reenactments and board games. This collection examines how battle strategies, famous generals, and the nuances of Civil War politics translate into contemporary popular culture. This unique analysis assesses the intersection of the Civil War and popular culture by recognizing how memories and commemorations of the war have changed since it ended in 1865.