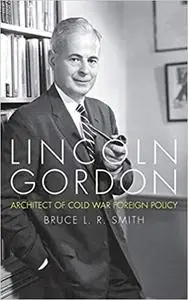 Bruce L.R. Smith, "Lincoln Gordon: Architect of Cold War Foreign Policy "
English | ISBN: 0813156556 | 2015 | 536 pages | EPUB | 3 MB
After World War II, American statesman and scholar Lincoln Gordon emerged as one of the key players in the reconstruction of Europe. During his long career, Gordon worked as an aide to National Security Adviser Averill Harriman in President Truman's administration; for President John F. Kennedy as an author of the Alliance for Progress and as an adviser on Latin American policy; and for President Lyndon B. Johnson as assistant secretary of state. Gordon also served as the United States ambassador to Brazil under both Kennedy and Johnson. Outside the political sphere, he devoted his considerable talents to academia as a professor at Harvard University, as a scholar at the Brookings Institution, and as president at Johns Hopkins University.
In this impressive biography, Bruce L. R. Smith examines Gordon's substantial contributions to U.S. mobilization during the Second World War, Europe's postwar economic recovery, the security framework for the North Atlantic Treaty Organization (NATO), and U.S. policy in Latin America. He also highlights the vital efforts of the advisers who helped Gordon plan NATO's force expansion and implement America's dominant foreign policy favoring free trade, free markets, and free political institutions.
Smith, who worked with Gordon at the Brookings Institution, explores the statesman-scholar's virtues as well as his flaws, and his study is strengthened by insights drawn from his personal connection to his subject. In many ways, Gordon's life and career embodied Cold War America and the way in which the nation's institutions evolved to manage the twentieth century's vast changes. Smith adeptly shows how this "wise man" personified both America's postwar optimism and as its dawning realization of its own fallibility during the Vietnam era.
Read more