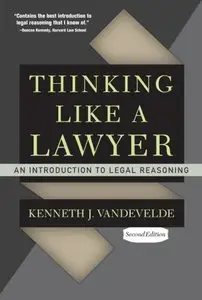 Thinking Like a Lawyer: An Introduction to Legal Reasoning, Second Edition by Kenneth J. Vandevelde
English | 2010 | ISBN: 0813344646 | 352 pages | PDF | 1,4 MB
Law students, law professors, and lawyers frequently refer to the process of "thinking like a lawyer," but attempts to analyze in any systematic way what is meant by that phrase are rare. In his classic book, Kenneth J. Vandevelde defines this elusive phrase and identifies the techniques involved in thinking like a lawyer. Unlike most legal writings, which are plagued by difficult, virtually incomprehensible language, this book is accessible and clearly written and will help students, professionals, and general readers gain important insight into this well-developed and valuable way of thinking.
Updated for a new generation of lawyers, the second edition features a new chapter on contemporary perspectives on legal reasoning. A useful new appendix serves as a survival guide for current and prospective law students and describes how to apply the techniques in the book to excel in law school.
My nickname -
interes