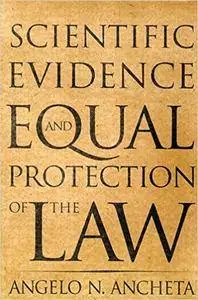 Angelo N Ancheta, "Scientific Evidence and Equal Protection of the Law"
English | 2006 | ISBN: 0813537347 | PDF | pages: 208 | 0.9 mb
Scientific and social scientific evidence has informed judicial decisions and the making of constitutional law for decades, but for much of U.S. history it has also served as a rhetorical device to justify inequality. It is only in recent years that scientific and statistical research has helped redress discrimination—but not without controversy.
Scientific Evidence and Equal Protection of the Law provides unique insights into the judicial process and scientific inquiry by examining major decisions of the U.S. Supreme Court, civil rights advocacy, and the nature of science itself. Angelo Ancheta discusses leading equal protection cases such as Brown v. Board of Education and recent litigation involving race-related affirmative action, gender inequality, and discrimination based on sexual orientation. He also examines less prominent, but equally compelling cases, including McCleskey v. Kemp, which involved statistical evidence that a state's death penalty was disproportionately used when victims were white and defendants were black, and Castaneda v. Partida, which established key standards of evidence in addressing the exclusion of Latinos from grand jury service. For each case, Ancheta explores the tensions between scientific findings and constitutional values.