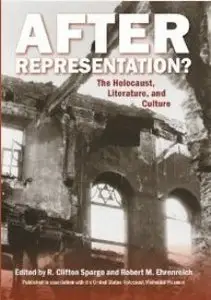 R. Clifton Spargo, "After Representation?: The Holocaust, Literature, and Culture"
R….rs U-ty P…s | ISBN: 0813545897 | 2009 | PDF | 257 pages | 2,62 mb
As experts in the study of literature and culture, the scholars in this collection examine the shifting cultural contexts for Holocaust representation and reveal how writers–whether they write as witnesses to the Holocaust or at an imaginative distance from the Nazi genocide–articulate the shadowy borderline between fact and fiction, between event and expression, and between the condition of life endured in atrocity and the hope of a meaningful existence. What imaginative literature brings to the study of the Holocaust is an ability to test the limits of language and its conventions. After Representation? moves beyond the suspicion of representation and explores the changing meaning of the Holocaust for different generations, audiences, and contexts.
Note 1
: If you can not open the downloaded file, and your Adobe Reader reports on the damaged file, then
update
your Adobe Reader. Lastest version of Adobe Reader opens this book perfectly.
Note 2
: Links not work? Send me
PM
and I'll try to help you.