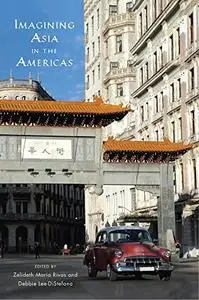 Imagining Asia in the Americas (Asian American Studies Today) by Zelideth María Rivas, Debbie Lee-DiStefano
2016 | ISBN: 0813585201, 081358521X | English | 216 pages | PDF | 2 MB
For centuries, Asian immigrants have been making vital contributions to the cultures of North and South America. Yet in many of these countries, Asians are commonly viewed as undifferentiated racial "others," lumped together as chinos regardless of whether they have Chinese ancestry. How might this struggle for recognition in their adopted homelands affect the ways that Asians in the Americas imagine community and cultural identity?
The essays in Imagining Asia in the Americas investigate the myriad ways that Asians throughout the Americas use language, literature, religion, commerce, and other cultural practices to establish a sense of community, commemorate their countries of origin, and anticipate the possibilities presented by life in a new land. Focusing on a variety of locations across South America, Central America, the Caribbean, and the United States, the book's contributors reveal the rich diversity of Asian American identities. Yet taken together, they provide an illuminating portrait of how immigrants negotiate between their native and adopted cultures.
Drawing from a rich array of source materials, including texts in Spanish, Portuguese, Korean, Japanese, Chinese, and Gujarati that have never before been translated into English, this collection represents a groundbreaking work of scholarship. Through its unique comparative approach, Imagining Asia in the Americas opens up a conversation between various Asian communities within the Americas and beyond.