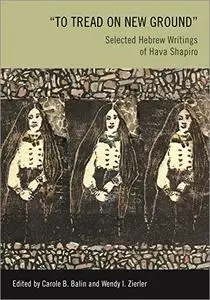 "To Tread on New Ground": Selected Hebrew Writings of Hava Shapiro by Hava Shapiro, edited by Carole B. Balin, Wendy I. Zierler
English | December 1, 2014 | ISBN: 0814338690 | EPUB | 472 pages | 12.9 MB
Hava Shapiro is among the nearly forgotten Jewish women writers who sought acceptance in Jewish literary circles of the last century. Born in Slavuta (modern-day Ukraine) in 1878, she published works of fiction, memoir, literary criticism, and journalism, including a volume of short fiction and a scholarly monograph on the Czech leader Masaryk. Her handwritten diary-the first known diary to be kept by a woman in Hebrew-evokes not only the momentous events of her day but also the experiences of women like herself who failed to follow the dictates of Jewish tradition and aspired to roles beyond those of wife and mother.
In "To Tread New Ground": Selected Writings of Hava Shapiro, editors and translators Carole B. Balin and Wendy I. Zierler present an English anthology of Shapiro's late-nineteenth- and early-twentieth-century Hebrew writings. The selection culls from her short fiction, feminist literary criticism, reportage and literary essays, as well as her diary and hundreds of letters. Shapiro chronicled, publicly and privately, such cataclysmic events as the Russian Revolution and both World Wars in addition to critical episodes in the Jewish past, including pogroms, mass migration, ruptures in traditional Jewish life, and the development of Zionism. A list of Shapiro's intimates, whom she describes in both her diary and published reminiscences, reads like a "who's who" of the Russian Haskalah, including Y. L. Peretz, Reuven Brainin, David Frischmann, Nahum Sokolov, Micha Yosef Berdischevsky, and Hayim Nahman Bialik. To further contextualize Shapiro's writings, Balin and Zierler include a thorough introduction and translations of critical essays about Shapiro.
Balin and Zierler's Hebrew edition of Shapiro's writing, Behikansi atah, which was published in Israel in 2008, brought the first broad attention and readership to Shapiro's remarkable biography and writings. The translations in "To Tread New Ground," which include previously uncollected materials, will be welcomed by English-speaking readers interested in Hebrew literature, East European Jewish history, and gender studies.