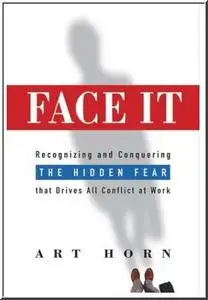 Face It: Recognizing and Conquering the Hidden Fear That Drives All Conflict at Work by Art Horn
Publisher: AMACOM/American Management Association; 1st edition (June 2004) | ISBN-10: 0814408354 | CHM | 0,4 Mb | 240 pages
The primary reason people don't succeed at work is fear, according to Horn, an executive consultant and coach in Toronto. This fear creates different personalities, including worriers, control freaks, fakes, attention-seekers, victims and prisoners. Using examples from his own practice, Horn explains how to diagnose these profiles. He asks people what they're thinking as they continue to exhibit certain behavior, even if the particular demeanor is hurting them professionally. Often, the individuals recall something from their childhood that explains why they act in a certain way. Once people are aware of the reasons for their behavior, they can slowly begin to change. The author addresses individuals wanting to modify their behavior as well as people who interact with "problem types." As Horn explains, "If someone does not readily admit to the negative effects of their behavior, and you need the behavior to change, then don't go to the topic of motive. Stay on the topic of behavior." Horn's style is friendly and clear, and the real-life anecdotes and dialogues ably support the author's thesis. However, some readers may find the book slows down when Horn discusses his "transcendence model" and how to understand the needs of the "self." As a result, the book will most benefit readers who are already comfortable with psychological approaches to work situations.