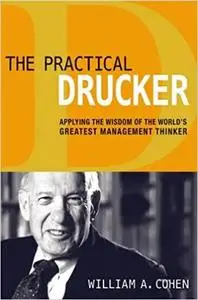 William Cohen, "The Practical Drucker: Applying the Wisdom of the World's Greatest Management Thinker"
English | ISBN: 0814433499 | 2013 | 288 pages | EPUB | 560 KB
There is no shortage of books and successful businesspeople who have emphasized concepts such as decentralization, outsourcing, the rise of the knowledge worker, the role of employees as assets, and a focus on the customer. But it was Peter Drucker who years, sometimes decades, first blew the whistle on these indisputably important keys to success. And still today, Drucker is recognized as the inventor of modern management, and continues to influence leaders around the globe. And now readers can benefit from this collection of applicable concepts taken from Drucker's myriad books.Within the invaluable pages of Practical Drucker, readers will find surprising insights and clear guidance on how to: • Engage employees and achieve outstanding performance • Remedy destructive office politics • Handle a crisis • Become better decision makers by questioning assumptions • Determine which leadership style to use in which situation • Do more with less • Steer clear of the biggest traps that leaders fall into • Avoid the five deadly marketing sins • And much moreIn efficient, knowledge-filled chapters, this all-in-one resource has taken the practical wisdom from Drucker's large body of work–including his books, essays, articles, as well as his decades of teaching and consulting–and shaped it together into a set of fresh, vital lessons that will resonate today and for years to come.