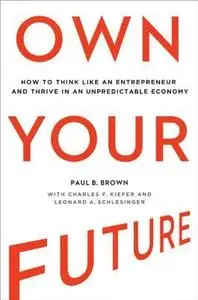 Own Your Future: How to Think Like an Entrepreneur and Thrive in an Unpredictable Economy by Paul B. Brown, Charles F. Kiefer
English | ISBN: 0814434096 | 2014 | EPUB | 224 pages | 1 MB
It used to be that if you studied and worked hard, you could be assured of an extremely satisfying career. But in a world of constant layoffs and dying industries, it has become increasingly difficult to "plan" your way to success. Own Your Future shows how to apply the same approach successful entrepreneurs use to maneuver in an unpredictable economy. Instead of picturing your perfect career and working backwards, simply begin with the direction you want to go and take a small step. Then evaluate the lessons you learn from that first step, build on them, and take another step in your desired direction. Thinking alone will never change your life–you must ACT. Filled with stories of professionals of all kinds who have profited from this proactive approach, Own Your Future gives you the tools you need to succeed–no matter what comes your way.
My nickname -
interes