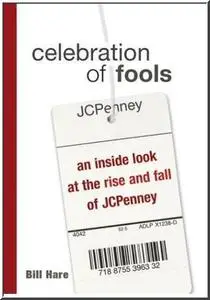 Celebration of Fools: An Inside Look at the Rise and Fall of JCPenney by Bill Hare
Publisher: AMACOM/American Management Association; 1st edition (June 2004) | ISBN-10: 0814471595 | CHM | 0,7 Mb | 304 pages
Former corporate speechwriter Hare presents an unvarnished look at the J.C. Penney Company, a truly American saga that parallels U.S. business history itself. Hare looks at the company from its beginning in 1902 as a dry goods store, through its rise into a successful chain of full-service department stores rivaled only by Sears, Roebuck, to its fall into bankruptcy in the 1990s due to corporate bungling. But his narrative is based on individual portraits of the men who first developedand who, he says, later betrayedthe company's "revolutionary concept": "letting stores be driven by clever individuals whose long hours of work would include a 'solicitous interest' in the well-being of the store's surrounding community." Hare crafts excellent portraits ranging from founder J.C. Penney, a "gutsy risk taker," to the company's prebankruptcy leader, Jim Oesterreicher, "a man clearly in over his head as CEO." He also captures how women such as Gail Duff-Bloom had to fight to rise to positions of influence within a male-dominated corporate culture. The weakest parts of the book are its first few chapters, featuring Hare's dramatization of the company's early years: his creation of incidents and dialogue to create "reasonable reflections" based on available historical records fall flat. But the rest of the narrative, for which Hare interviewed firsthand participants, effectively recreate key incidents, such as charismatic Penney CEO Bill Howell making his unexpectedly thrilling 1993 speech on corporate sexism to the Ladies Professional Golf Association.