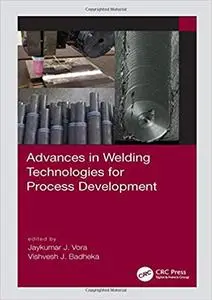 Jaykumar Vora, "Advances in Welding Technologies for Process Development"
English | ISBN: 081537707X | 2019 | 309 pages | PDF | 15 MB
Within manufacturing, welding is by far the most widely used fabrication method used for production, leading to a rise in research and development activities pertaining to the welding and joining of different, similar, and dissimilar combinations of the metals. This book addresses recent advances in various welding processes across the domain, including arc welding and solid-state welding process, as well as experimental processes. The content is structured to update readers about the working principle, predicaments in existing process, innovations to overcome these problems, and direct industrial and practical applications.
Key Features:
Describes recent developments in welding technology, engineering, and science
Discusses advanced computational techniques for procedure development
Reviews recent trends of implementing DOE and meta-heuristics optimization techniques for setting accurate parameters
Addresses related theoretical, practical, and industrial aspects
Includes all the aspects of welding, such as arc welding, solid state welding, and weld overlay