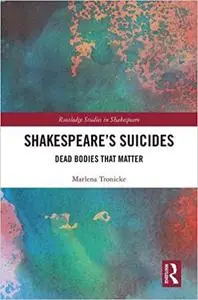 Marlena Tronicke, "Shakespeare's Suicides: Dead Bodies That Matter "
English | ISBN: 0815380445 | 2017 | 220 pages | EPUB, PDF | 2 MB + 2 MB
Shakespeare's Suicides: Dead Bodies That Matter is the first study in Shakespeare criticism to examine the entirety of Shakespeare's dramatic suicides. It addresses all plays featuring suicides and near-suicides in chronological order from Titus Andronicus to Antony and Cleopatra, thus establishing that suicide becomes increasingly pronounced as a vital means of dramatic characterisation. In particular, the book approaches suicide as a gendered phenomenon. By taking into account parameters such as onstage versus offstage deaths, suicide speeches or the explicit denial of final words, as well as settings and weapons, the study scrutinises the ways in which Shakespeare appropriates the convention of suicide and subverts traditional notions of masculine versus feminine deaths. It shows to what extent a gendered approach towards suicide opens up a more nuanced understanding of the correlation between gender and Shakespeare's genres and how, eventually, through their dramatisation of suicide the tragedies query normative gender discourse.
Read more