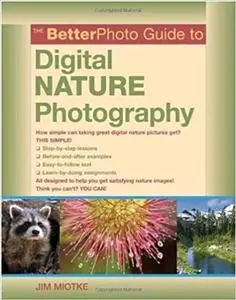 The Betterphoto Guide to Digital Nature Photography (Better Photo Guide to) by Jim Miotke
English | 31 Mar. 2007 | ISBN : 0817435530 | 224 pages | MOBI | 5 MB
From the tiniest ladybug to a towering glacier, nature subjects offer some of the greatest challenges and the greatest rewards to photographers. In the BetterPhoto tradition, here's a complete photo course in a book. Hands-on lessons cover every aspect of digital nature photography, from buying the right camera for close-ups, landscapes, and movement - to understanding how the camera works, and taking great pictures. Jim Miotke uses straightforward text and inspiring informative photos to show the best ways to approach nature photography. Everything a beginner or intermediate photographer needs to know is here - including a buyer's guide, full information on camera features, file formats & settings, exposure, low-light photography, filters & white balance, composition & lens choice and much more.