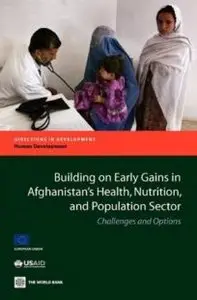 Tekabe Belay, "Building on Early Gains in Afghanistan's Health, Nutrition, and Population Sector: Challenges and Options"
W-d B..k | ISBN: 0821383353 | 2010 | PDF | 228 pages | 1,07 mb
Afghanistan has made considerable progress since 2001. A nationwide survey conducted in late 2006 found that the IMR had fallen to 129 per 1,000 live births, and the U5MR had fallen to191 per 1,000 live births, representing a 22 percent and 26 percent decline, respectively, from the end of 2001. Similarly, prenatal care coverage has increased from less than 5 percent to 32 percent, and DTP3 coverage has increased from less than 20 percent to 35 percent between 2003 and 2006. Administrative data indicate that the number of functioning primary health care facilities has nearly doubled from 498 in 2001 to more than 936 in 2008. The quality of care in publicly financed facilities also has increased by about 22 percent from 2004 to 2006.
Despite this progress, much still remains to be done. Although progress in the health sector is encouraging, it is not sufficient to ensure that Afghanistan will achieve the Millennium Development Goals (MDGs). The challenges include revising the content of the BPHS, rethinking the delivery of the BPHS, securing sustained and predictable financing, the emerging private sector, shortage of human resources for health, and the building the capacity of the ministry to enable it effectively carry out its stewardship functions.
The volume presents specific policy options for the MOPH to consider to further build on the early gains made in the health sector. The guiding principles of these options are consistency with the Ministry's vision and feasibility on implementation. These policy options tell a story with the central theme of expanding service coverage and what the Ministry needs to do to make that happen.
Note 1
: If you can not open the downloaded file, and your Adobe Reader reports on the damaged file, then
update
your Adobe Reader. Lastest version of Adobe Reader opens this book perfectly.
Note 2
: Links not work? Send me
PM
and I'll try to help you.