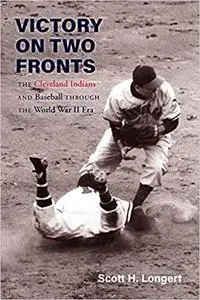 Scott H. Longert, "Victory on Two Fronts: The Cleveland Indians and Baseball through the World War II Era"
English | ISBN: 0821424726 | 2022 | 296 pages | PDF | 5 MB
Beginning with the Cleveland Indians' hard luck during World War II, this thrilling history follows the team through its historic role in racial integration and its legendary postwar comeback. Rich with player photographs and stories, this book is sure to excite American history buffs and baseball fans alike.
In early 1942, baseball team owners across the country scrambled to assemble makeshift rosters from the remaining ballplayers who had not left the sport for the armed forces. The Cleveland Indians suffered a tremendous loss when star pitcher Bob Feller became the first Major Leaguer to enlist, taking his twenty-plus wins per year with him. To make matters worse, the Indians' new player-manager, Lou Boudreau, had no coaching or managing experience. The resulting team was mediocre, and players struggled to keep up morale.
Read more