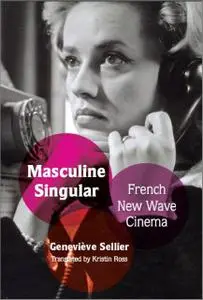 Masculine Singular: French New Wave Cinema by Geneviève Sellier, translated by Kristin Ross
English | March 25, 2008 | ISBN: 0822341751, 0822341921 | PDF | 280 pages | 1.2 MB
Masculine Singular is an original interpretation of French New Wave cinema by one of France's leading feminist film scholars. While most criticism of the New Wave has concentrated on the filmmakers and their films, Geneviève Sellier focuses on the social and cultural turbulence of the cinema's formative years, from 1957 to 1962. The New Wave filmmakers were members of a young generation emerging on the French cultural scene, eager to acquire sexual and economic freedom. Almost all of them were men, and they "wrote" in the masculine first-person singular, often using male protagonists as stand-ins for themselves. In their films, they explored relations between men and women, and they expressed ambivalence about the new liberated woman. Sellier argues that gender relations and the construction of sexual identities were the primary subject of New Wave cinema.
Sellier draws on sociological surveys, box office data, and popular magazines of the period, as well as analyses of specific New Wave films. She examines the development of the New Wave movement, its sociocultural and economic context, and the popular and critical reception of such well-known films as Jules et Jim and Hiroshima mon amour. In light of the filmmakers' focus on gender relations, Sellier reflects on the careers of New Wave's iconic female stars, including Jeanne Moreau and Brigitte Bardot. Sellier's thorough exploration of early New Wave cinema culminates in her contention that its principal legacy—the triumph of a certain kind of cinephilic discourse and of an "auteur theory" recognizing the director as artist—came at a steep price: creativity was reduced to a formalist game, and affirmation of New Wave cinema's modernity was accompanied by an association of creativity with masculinity.