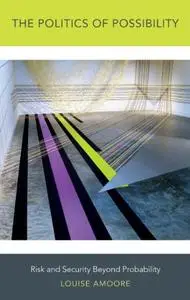 Louise Amoore, "The Politics of Possibility: Risk and Security Beyond Probability"
English | 2013 | ISBN: 0822355604 | PDF | pages: 233 | 1.1 mb
Since September 11, 2001, the imagination of "low probability, high consequence" events has become a distinctive feature of contemporary politics. Uncertain futures—devastation by terrorist attack, cyber crime, flood, financial market collapse—must be discerned and responded to as possibilities, however improbable they may be. In The Politics of Possibility, Louise Amoore examines this development, tracing its genealogy through the diverse worlds of risk management consulting, computer science, commercial logistics, and data visualization. She focuses on the increasingly symbiotic relationship between commercial opportunities and state security threats, a relation that turns the trusted, iris-scanned traveler into "a person of national security interest," and the designer of risk algorithms for casino and insurance fraud into a homeland security resource. Juxtaposing new readings of Agamben, Foucault, Derrida, Massumi, and Connolly with interpretations of post–9/11 novels and artworks, Amoore analyzes the "politics of possibility" and its far-reaching implications for society, associative life, and political accountability.