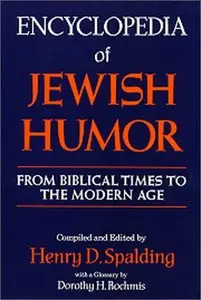 Henry D. Spalding, "Encyclopedia of Jewish Humor: From Biblical Times to the Modern Age"
English | 2001-03-01 | ISBN: 0824604393 | 480 pages | DJVU | 7.35 mb
Jewish humor mirrors the minds and hearts of the Jewish people. It reflects their joys and sorrows, hopes and disappointments. Perhaps most significant, it demonstrates their willingness to poke fun at themselves, which has no doubt enabled Jews to endure centuries of hardship with head held high and a smile on their collective face.
In the Encyclopedia of Jewish Humor, hailed as a landmark work when first published, Henry D. Spalding presents delightful anecdotes, quips, jokes, and yarns featuring the colorful folk who have added spice and spirit to Jewish life from biblical to modern times. Some of the selections are pungent, many are scornful of deceit and pretense, others are alive with brotherhood. Most are just downright hilarious.