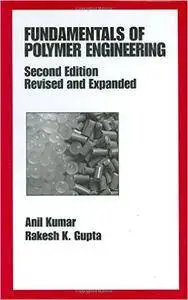 Anil Kumar, Rakesh K. Gupta, "Fundamentals of Polymer Engineering, Revised and Expanded"
English | 2003 | ISBN: 0824708679 | PDF | pages: 702 | 12.3 mb
Exploring the characterization, thermodynamics and structural, mechanical, thermal and transport behavior of polymers as melts, solutions and solids, this text covers essential concepts and breakthroughs in reactor design and polymer production and processing. It contains modern theories, end-of-chapter problems and real-world examples for a clear understanding of polymer function and development. Fundamentals of Polymer Engineering, Second Edition provides a thorough grounding in the fundamentals of polymer science for more advanced study in the field of polymers. Topics include reaction engineering of step-growth polymerization, emulsion polymerization, and polymer diffusion.