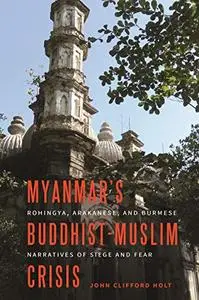 Myanmar's Buddhist-Muslim Crisis: Rohingya, Arakanese, and Burmese Narratives of Siege and Fear by John Clifford Holt
2019 | ISBN: 0824882113, 0824881796 | English | 328 pages | EPUB | 2 MB
Myanmar's Buddhist-Muslim Crisis is a probing search into the reasons and rationalizations behind the violence occurring in Myanmar, especially the oppressive military campaigns waged against Rohingya Muslims by the army in 2016 and 2017. Over more than three years John Holt traveled around Myanmar engaging in sustained conversations with prominent and articulate participants and observers. What emerges from his peregrinations is a series of compelling portraits revealing both deep insights and entrenched misunderstandings.
To understand the conflict, Holt must first accurately capture the viewpoints of his different conversation partners, who include Buddhists and Muslims, men and women, monks and laypeople, activists and scholars. Conversations range widely over issues such as the rise of Buddhist nationalism; the sometimes enigmatic and unexpected positions taken by Aung San Suu Kyii; use of the controversial term "Rohingya"; the impact of state-sponsored propaganda on the Burmese public; resistance to narratives emanating from international media, the United Nations, and the international diplomatic community; the frustrations of local political leaders who have felt left out of the policy-making process in the Rakhine State; and the constructive hopes and efforts still being made by forward-looking activists in Yangon. Three main perspectives emerge from the voices he listens to, those of Arakanese Buddhists who are native to Rakhine (once called Arakan), where much of the conflict has taken place; Burmese Buddhists (or Bamars), who make up the vast majority of Myanmar's population; and the Rohingya Muslims, whose tragic story has been widely disseminated by the international media.
What surfaces in conversation after conversation among all three groups is a narrative of siege: all see themselves as the aggrieved party, and all recount a history of being under siege. John Holt gives voice to these different perspectives as an engaged and concerned participant, offering both a critical and empathetic account of Myanmar's tragic predicament. Readers follow the hopes and dismay of this seasoned scholar of Theravada Buddhism as he seeks his own understanding of the variously impassioned forces in play in this still unfolding drama.